Brief introduction:
3004 aluminum foil is commonly used in food and beverage.It has the advantages of light weight and gloss, good barrier properties, strong light shielding, oxidation resistance, water resistance, moisture resistance, non-toxicity and tastelessness, etc.,and meets the standards for food packaging. Nowadays, environmental protection is the top priority of economic development,plastic products are non-degradable. It takes a long time to bury in the ground to rot. It is the culprit that pollutes the soil environment. Therefore, more and more people choose to use recyclable aluminum foil products, and the demand for aluminum foil in the market is also increasing. Mingtai Aluminum provides 3004 aluminum foil raw materials, has been engaged in aluminum foil production for many years, advanced technology and equipment, and skilled craftsmanship. It is your best choice for purchasing aluminum foil!
Delivery Terms: FOB, CFR, CIF
Thickness: 0.014-0.2mm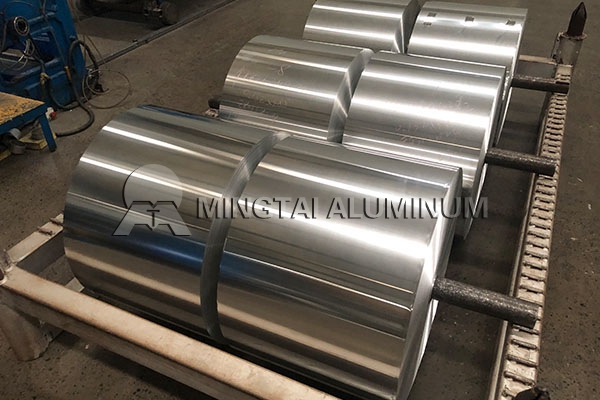 Applications and Features:
1. High temperature and low temperature resistance, aluminum foil products made of 3004 aluminum foil will not cause deformation due to temperature changes.
2. Small pinholes, good air tightness, prevent food spoilage.
3. Good light shielding, can be used to package those items that need to be protected from light, such as tea, coffee, cream, etc.
4. Energy saving and environmental protection, aluminum foil is recyclable metal, will not pollute the soil environment.
5. Non-toxic and tasteless, can be used for food. Mingtai aluminum production of 3004 aluminum foil plate formation, clean surface without impurities.
The use of 3004 aluminum foil
Due to its good formability, it can be made into dining boxes of different shapes, which can be divided into two types: wrinkle-free and wrinkle-free. The stamping effect of 3004 aluminum foil is good. There are no wrinkles on the four corners of the surface after stamping, and the appearance is smooth. Also can be used for a variety of food packaging, and other materials composite, after printing, by the vast number of food production industries.