Brief introduction:
8079 aluminum foil is one of the 8xxx aluminum alloy products. Compared to other alloy aluminum foil , 8079 aluminum foil is more moisture-proof, good air tightness, keep the taste and other advantages. It has beautiful silver luster, is beneficial to work out all sorts of beautiful design and decorative pattern. So it is easier to get the favour of people, the price will be slightly higher than other alloy aluminum foil. Mingtai Aluminum is a high-quality 8079 aluminum foil direct selling manufacturer,with multiple advantages in aluminum foil production, the aluminum foil products are deeply loved by customers at home and abroad.
Thickness: 0.014-0.2mm
Delivery Terms: FOB, CFR, CIF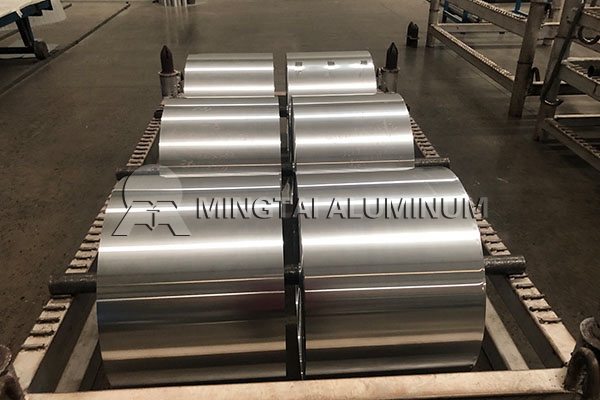 Applications and Features:
1.It has better elongation and puncture resistance than other aluminum foils, so it is mostly used for medicinal aluminum foils.
2.Through the detection of bacteria and fungi, 8079 aluminum foil is non-toxic and odorless, safe and hygienic.Used in food packaging industry, it will not endanger human health.
3.8079 Aluminum foil has good moisture, gas and antiseptic effects, which can effectively protect food. It is an ideal material for packaging food and other commodities.
4.Stable structure, not easy to deform under high and low temperature environment, so it can be used in various environments.
5.Has excellent electrical conductivity, mostly used in battery casings and electronic cable insulation tape.
The use of 8079 aluminum foil
1.Used for food packaging: compound with other materials to make soft packaging foil , which can be used to package foods such as candy, tea, and bread. It can also be used for aseptic packaging aluminum foil, that is, paper bag / carton filled with pure milk.
2.Used for drug packaging: aluminum foil capsule board, medicine cover, blister foil and medicine packaging bag.
3.Used for meal box materials: usually used for takeaway meal boxes and airmail wrinkle-free meal boxes.