Brief introduction:
8006 aluminum foil is one of the hot-selling products of 8-series aluminum alloy, which is a non-heat-treatable reinforced aluminum alloy, mostly used for wrinkle-free food box materials. With the fast pace of life, more and more people choose takeout to save time. Takeaway boxes are generally made of plastic. But the environmental issues caused by plastic products cannot be underestimated, so more and more businesses and customers have begun to use aluminum foil lunch boxes. Mingtai Aluminum is a large-scale supplier of aluminum foil lunch box materials. It can provide single zero 8006 aluminum foil for meal box, with an annual production capacity of 860,000 tons, which can provide stable and long-term supply.
Thickness: 0.014-0.2mm
Delivery Terms: FOB, CFR, CIF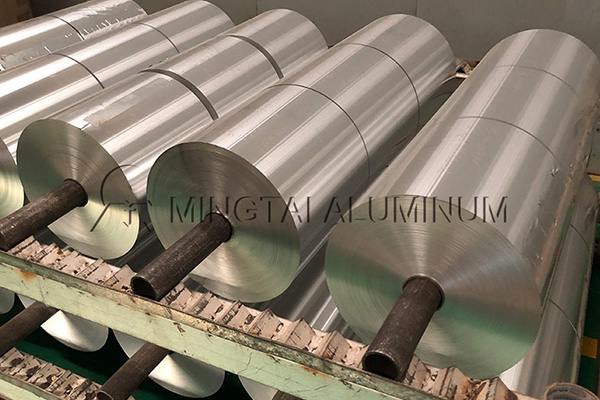 Applications and Features:
1.Aluminum foil is non-toxic and tasteless, quality and safety, will not endanger human health.
2.The aluminum foil is flat, free of oil and impurities, suitable for making wrinkle-free meal box materials.
3.High temperature resistance, no toxic and harmful substances will be released after heating.
4.It is malleable and can be made into various shapes.
5.Strong barrier properties, good tightness, less pinholes, gas and moisture resistance, can ensure food hygiene and keep dry, thereby extending the shelf life of food.
6.High recovery rate, can be put into use again after reprocessing, energy saving and environmental protection.
The use of 8006 aluminum foil
8006 aluminum foil is often used in aviation meal box materials, it adopts hot rolling process. The tensile strength can reach 125-135Mpa. After stamping forming the four corners and edges without wrinkles, the appearance of smooth, is the best choice for aerospace non-wrinkle food box material. 8006 aluminum foil products can reach brush water grade A, which has the characteristics of clean surface, no oil stain, environmental protection, non-toxic and harmless. Therefore, aluminum foil lunch boxes made of it are widely welcomed in European countries. Of course, 8006 aluminum foil can also be used in food flexible packaging foils and medicinal foils, which have great advantages.