Brief introduction of honeycomb foil
Honeycomb foil uses 3004 aluminum foil, which is bonded, laminated, and then stretched and unfolded into a regular honeycomb shape through multiple layers. This kind of structure has high strength, and its resistance to bending and flexing, compression resistance and light specific gravity are also unmatched by other materials. In addition, due to the special structure of the aluminum honeycomb core, the air is divided into many closed pores, which restricts the air circulation, and also restricts the propagation of heat and sound waves, so it has good heat insulation, sound insulation effect, electrical conductivity, heat resistance, corrosion resistance, Energy absorption, shock absorption and thermal insulation effects.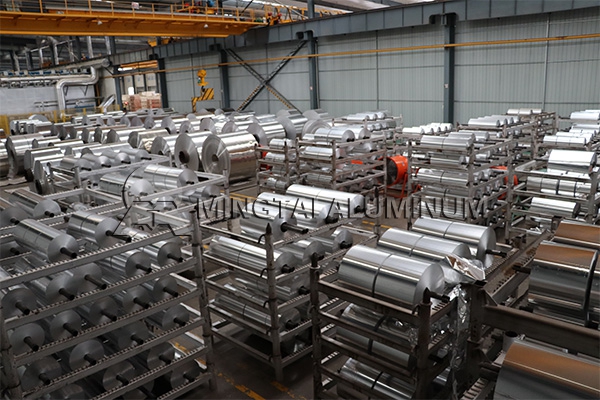 Applications and Features
Honeycomb foil is used for aluminum honeycomb core, which is widely used in construction, vehicle and ship decoration and other fields. This structure has many advantages, which are incomparable with many other materials.
1. The aluminum honeycomb core has high strength. The honeycomb structure has a hexagonal geometry, which can well disperse the external forces and support each other, making it a good mechanical structure.
2. The aluminum honeycomb core is light in weight. The raw material of aluminum honeycomb core is 3004-h18 aluminum foil, which has low density and light weight, which is convenient for later construction and installation.
3. The aluminum honeycomb core has good sound insulation and heat insulation effect. The aluminum honeycomb core is divided into many closed cells, which prevents the air flow, hinders the sound wave, and improves the sound absorption coefficient. In addition, aluminum has a higher melting point and better thermal insulation effect.
Specifications of honeycomb foil
1. Alloy: 3003 aluminum foil, 3004 aluminum foil, 5052 aluminum foil, H18/H19 state
2. Specifications (mm): thickness 0.018-0.055 width 100-1700
Henan Mingtai, 3004 aluminum foil is the company's superior product, rich experience, skilled craftsmanship, advanced equipment, and a strong technical team. The final produced 3004 honeycomb foil substrate has clean degreasing, high strength and flat shape.