Brief introduction of heat-sealed foil
The structure of heat-sealed foil is composed of heat-sealing layer, aluminum foil (products produced by Mingtai), weak adhesive layer, cardboard elastomer, etc. The final heat-sealed product is an aluminum foil composite material, which is used for the sealing of non-metallic containers and bottles.
Mainly used in food, medicine, cosmetics, engine oil, detergent, hair care products, wine sealing gaskets and other industries, with anti-leakage, preservation, anti-deterioration, anti-counterfeiting, anti-theft, moisture-proof and other functions.
The production process is Blank-Cold Rolling-Annealing-Foil Rolling-Slitting-Annealing-Packaging.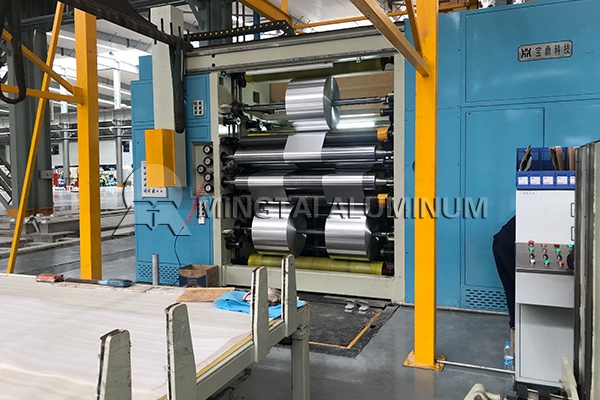 Surface quality of

h

eat-sealed foil
A. The surface of aluminum foil has no oil sticking, blistering, yellow oil spots and tearing phenomenon formed after annealing;
B. There are no bright spots, plaques, grinding wheel marks and net black lines on the surface of aluminum foil;
C. The surface of aluminum foil is clean, no oil contamination, pinholes, bright, convex-concave pointS, scratches, foreign bodies, wrinkles, etc.
D. The surface of the finished aluminum foil is flat, smooth, side waves less than 6 pcs / m, wave height less than 1mm.
Mingtai heat-sealed foil
Mingtai Aluminum Co., Ltd. is a large-scale manufacturer of aluminum foil raw materials. The 8011 aluminum foil and 3003 aluminum foil substrates produced by the company are the source of various sealing aluminum foil raw materials. 8011 aluminum foil has O, H22, H24, etc., the thickness range is 0.02-0.055mm, and the width range is 100-1700mm. It also has the following advantages:
1. Strong protection to prevent volatilization and pollution of items in the product;
2. Good sealing, no odor leaking out;
3. Clean and hygienic, without any bacterial growth on the surface;
4. High security and anti-theft effect.
The annual production capacity of aluminum sheet, strip and foil reaches 1.2 million tons, which is a long-term supply for many domestic and foreign enterprises.