Brief introduction of pharmaceutical foil
Medicines are packaged in various forms such as liquid, injection, tablet, granule, etc. Most of these packages use aluminum foil. The 1 series and 8 series medicinal aluminum foil series produced by Henan Mingtai strictly abide by the standards of the Health Bureau. The produced aluminum foil can protect the quality of the medicine, make the medicine not easy to be oxidized and deteriorate, and improve the stability of the medicine.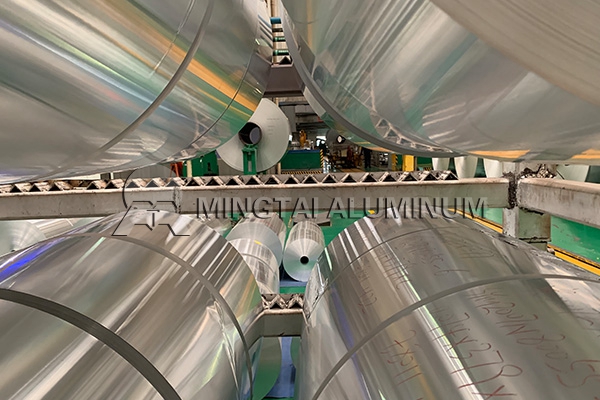 Applications and Features
1. The plate type is flat;
2. Strict requirements on the board surface, no black oil spots, scratches, small black silk, bright lines, roller printing bumps, mosquitoes and other phenomena;
3. No holes, found must be abolished;
4. Trimming quality, no burr, tower shape, channeling energy, lotus leaf edge, flanging, bump lighting phenomenon;
5. The packaging is moisture-proof and avoids oxidation;
6. Isolate various gases and block light radiation; can effectively prolong the shelf life of drugs, and can be used as drug packaging materials in extreme (high/low temperature) environments.
Various types of pharmaceutical foil
PTP pharmaceutical foil: Also known as capsule aluminum foil, it is mostly made of 8011-H18 aluminum foil or 8011-O state aluminum foil for tiling, with a thickness of 0.016-0.04mm;
Alu-alu, mostly 8021-O aluminum foil is used for high-end and strong sealing, moisture-proof and light-shielding pharmaceutical packaging, with a thickness of 0.04-0.065mm;
Blister aluminum foil: Blister aluminum foil is used for blister packaging, which is equivalent to adding a layer of cold stamped aluminum foil cover on the outside of thermoformed plastic blister and PTP aluminum foil. 8021-O aluminum foil and 8079-O aluminum foil are mostly used;
Drug closure sheet: Aluminum foil for drug caps is also called aluminum foil for medical caps. It is mostly made of 8011-H14 aluminum foil or 8011-H16 aluminum foil. It is widely used in pharmaceutical oral liquids, antibiotics, infusions and other bottled liquids.