FOIL CONTAINER WITH LID FOIL LAMINATED BOARD LIDS
PRODUCT FEATURES: Foil container with lids
Dimensions: Customized on demand
Foil Laminated Lids Lids
Oblong Take-Out Pans
OU Kosher Certified, Made in Henan Aluminum Corporation, CHINA
WARNING: Do not use in microwave.
Disposable

f

oil

c

ontainer with Lids
Disposable Foil Container with Lids can for a big number of meals during parties, events, celebrations, birthdays, wedding receptions, gatherings, reunions. Keep food warm a little longer and avoid spills on the way with spans, deep design, and included lids . These classic takeout food containers are your go-to choice for soups, stews, fried foods, salads, cookies, and more. Best use for baking, cooking, roasting, grilling, frying, roasting, etc., made durable to withstand extremes heat.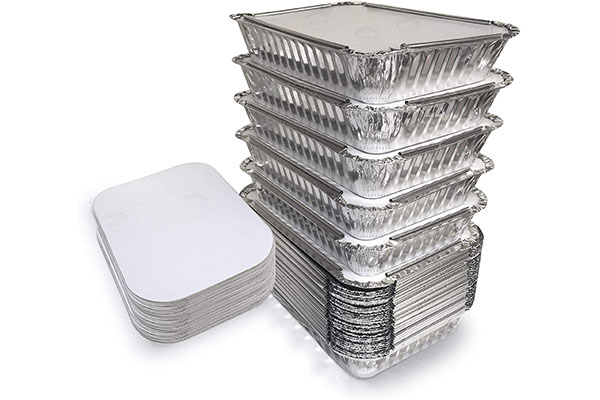 Foil Container with Lids

opposed to conventional cardboard and plastic lunch boxes
Our aluminum container with lids effectively replaces heavy dishes, serving trays, cling film, plastic jars, and plastic bags. Cleanup is a breeze too: gather any leftovers, and then chuck the pans into recycling. This Disposable doesn't mean wasteful. Instead are recyclable.
Aluminum foil containers, as opposed to conventional cardboard and plastic lunch boxes, can not only protect food but also withstand elevated temperatures and come into close contact with flames. As a result, it's a decent choice for preparing meals.
Features of

f

oil

c

ontainer with Lids
Food Container
Serving Trays
Storage Container
Aluminum Oblong Foil containers with Lids
Disposable