Pharmaceutical foil from china
The Pharmaceutical foil from China is single sided aluminum foil, very strict with the pinhole degree, unwinding performance and surface wetting performance requirements. With excellent moisture resistance, shading performance and very high isolation performance, meanwhile, has the advantages of no toxicity, no smell , safety, sanitation, convenient carrying, etc. It is widely used in the packaging of all kinds of medicine capsules, tablets and granules after the compound and printing.
Common alloys of pharmaceutical foil
Common foil 8000 series of 8011, 8021, the temper of O, H18. In accordance with the different temper, the use of different pharmaceutical packaging. O temper is commonly used in capsules, tablets and other packaging, H18 temper of relatively hard particles used in pharmaceutical packaging, initially used in pharmaceutical packaging is plastic and paper these simple package, but the package is not easy to save, but also easy to destroy the drug ingredients. Greatly reduce the efficacy. Now the foil for pharmaceutical packaging is a good solution to these problems. And easy to save, etc.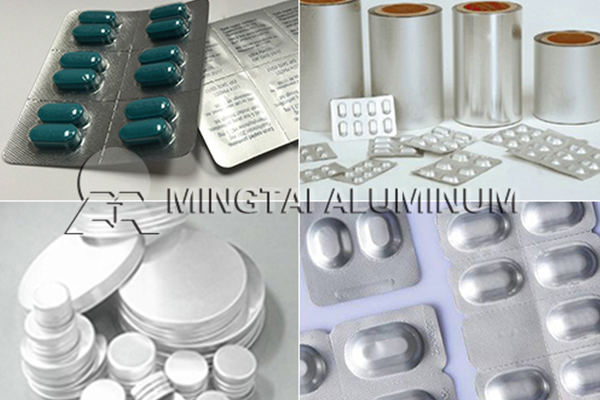 8079 pharmaceutical foil from

C

hina
Blister packaging of medicines is a relatively common form of packaging, which is used for tablets, pills and capsules. Compared with bottled tablet medicines, blister packaging has its advantages, such as being easy to carry, and it can reduce the contamination of medicines in the process of carrying and taking them. The quality of 8079 medicinal aluminum foil has a great influence on the packaging of medicines, and it is particularly important to choose a large aluminum foil mill.
Henan Ming tai aluminum foil China
Henan Ming tai aluminum foil production 8011, 8021, 8079 grades, the thickness ranges from 0.018 to 0.2mm, the width of the range is 100 - 1650mm, can be customized according to the different needs of customers, Henan Ming tai aluminum with excellent product quality, products exported to developed countries with developed pharmaceutical industry, establish long-term cooperation the relationship between. In the domestic market, the aluminum foil packaging are also praised by customers.