Battery soft package foil
The pouch battery is structurally packaged with aluminum-plastic film. In the event of a potential safety hazard, the pouch battery will only swell and crack, and will not explode. As the raw material of aluminum-plastic film for soft pack battery, Mingtai battery soft package foil products are mainly made of 8021/8079 alloy and O-tempered aluminum foil.
The surface of the aluminum foil is specially treated to make the inner core of the soft pack battery, and the finished inner core is placed in the finished aluminum plastic film to make the battery of the electronic products used in daily life. As the raw material of the battery core, Mingtai aluminum foil is mainly made of 1235 alloy and H18 state.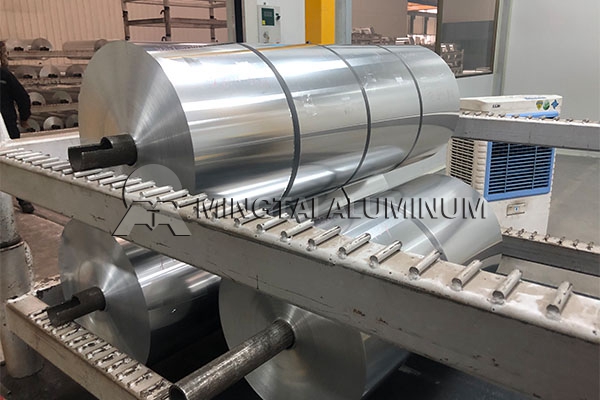 Advantages of battery soft package foil
In the digital field, with the increasingly obvious characteristics of small size, lightness and flexibility proposed by consumer electronic products for batteries, the speed of replacing square aluminum shells with soft packs has been accelerating, and traditional aluminum shell batteries such as Veken and Tianjin have become more and more obvious. Enterprises are increasing their investment in the field of soft packaging. Our company's 8021 aluminum foil has excellent quality such as good deep drawing performance, good electrolyte corrosion resistance, and high heat sealing strength. It is the preferred aluminum material for battery soft package foil.
On the basis of fully considering the thermal conductivity, electrical conductivity and mechanical strength of aluminum foil, high-precision rolling mill equipment, precise automatic control system, skilled craftsmanship, and strict quality management system ensure that Mingtai Aluminum provides customers with high-quality and satisfactory products. .
Packaging of Battery soft package foil
The packaging of Battery soft package foil, in addition to basic packaging materials such as desiccant, moisture-proof film, kraft paper, wooden tray, wood board, steel belt, etc., must also be padded with sponge strips to prevent the bottom of the roll from being hurt. Moreover, the battery foil is thin and easy to damage, so it needs to be packed in a box to prevent water, rain and bumps.
For battery foil products sent to different regions (such as some places are rainy and some places are dry and hot), the added desiccant is the same, because the company uses the highest standard desiccant.