Brief introduction:
8021 aluminum foil is a hot-selling aluminum foil product of Mingtai Aluminum,it has great physical advantages. Add other trace elements, avoid the shortcomings of pure aluminum aluminum foil. It will form a layer of aluminum oxide film on the surface, which has a good antirust effect,make its service life longer. Because aluminum has the appearance of silver white, used as packaging will also appear very beautiful,and have good visual effects. 8021 aluminum foil has many excellent properties. As Mingtai's star product,it has passed the detection of bacteria and mold in the production process, and the content of heavy metal does not exceed 0.25 parts per million, which can ensure the safety of food and medicine.
Thickness: 0.014-0.2mm
Delivery Terms: FOB, CFR, CIF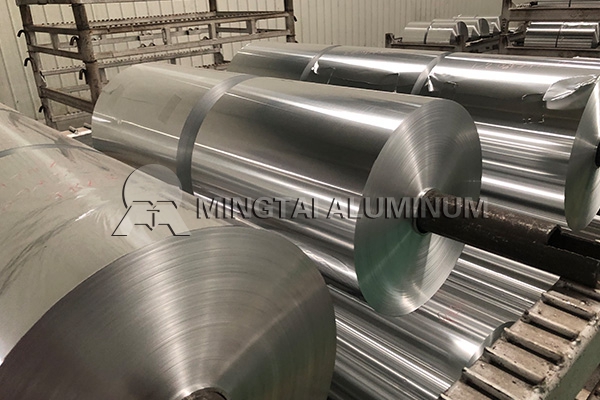 Applications and Features:
1.The surface is clean and hygienic, not easy to breed bacteria.
2.Non-toxic and odorless, it doesn't affect the taste of the food itself, and does not threaten human health.
3.It is resistant to high and low temperature and will not cause oil infiltration due to temperature changes.
4.High hardness and tension, but easy to tear.
5.Opaque, avoids light exposure and protects the packaged items for longer storage.
Advantages of 8021 aluminum foil
1.Good safety performance. In the case of hidden dangers, the soft pack battery not explode.
2.Ming-tai 8021 aluminum foil has excellent properties such as good deep-drawing performance, good corrosion resistance to electrolyte, and high heat sealing strength.
3.With high plasticity, it can be used to pack articles of various shapes and can also be made into containers of various shapes.
The use of 8021 aluminum foil
8021 aluminum foil is often used in the field of electronic products, such as soft lithium battery, polymer lithium battery and other types of lithium battery. Because it is not easy to breed bacteria, it is also widely used in the food packaging industry, such as aluminum foil take-out lunch boxes, baking containers, etc. Excellent light-shielding properties can also be used to package cream and other items that are afraid of direct sunlight. With good ductility and easy to tear, it is also widely used in the back of drug capsules for easy storage and opening. 8021 aluminum foil is widely used in various industries.