Brief introduction:
8011 aluminum foil is a product of 8xxx aluminum alloy and also a hot-selling product of aluminum foil of Mingtai Aluminum. Its performance is better than 1xxx pure aluminum foil and has many advantages,so it is widely used in all walks of life. Mingtai Aluminum is a large-scale aluminum foil production base. Since its establishment in 1997, has accumulated rich experience in aluminum foil production, skilled processing technology, advanced production equipment, product quality leading the industry. Aluminum foil with thickness of 0.014-0.2mm can be produced, 8011 aluminum foil can be customized according to customer demand. Mingtai Aluminum is a direct selling manufacturer, reducing intermediate circulation links, saving procurement costs for customers,with a large annual output and can be long-term stable supply !
Thickness: 0.014-0.2mm
Delivery Terms: FOB, CFR, CIF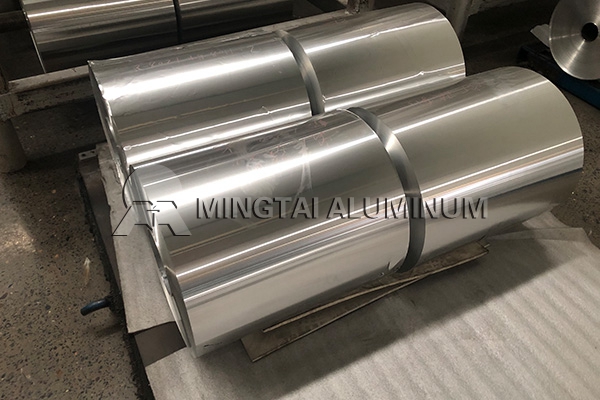 Applications and Features:
1.8011 aluminum foil contains Mn and Mg elements, so aluminum foil has good strength and corrosion resistance.
2.It meets the food grade standard. The 8011 aluminum foil brush water produced by mingtai is grade A, with low ear-making rate.
3.High cup convex value, less pinhole, good sealing.
4.There is no impurity on the surface of the aluminum foil, the oil is clean, the plate is flat, clean and hygienic.
5.High recycling rate and no pollution to the environment.
Technical parameters of 8011 aluminum foil
1.Used for bottle cap materials: white wine bottle cap, red wine bottle cap, yogurt cap, medical cap, cosmetic cap, etc.
2.Used for drug packaging: PTP medicine foil, cold stamped medicine foil, blister foil, capsule aluminum foil plate, etc.
3.Used for food packaging: container foil, meal box material, egg tart cup, all kinds of food packaging, sealing foil, etc.
4.Industrial applications: tape foil, aluminum foil for electronic cables, honeycomb foil, etc.
Note: Mingtai Aluminum only provides raw materials for the above purposes, don't provide post-finished product processing.(composite, glue and other deep processing)