Electronic aluminum foil manufacturer in China
At present, the electronic aluminum foil manufacturers in China are not many, but the electronic aluminum foil in the market demand is strong, because of its light weight, sealing, coating and other advantages, the application is also very extensive.
About electronic aluminum foil
Aluminum foil is widely used in heat transfer, packaging, electronics, construction, household and other fields. According to the use can be divided into many kinds, such as Household aluminum foil, aluminum foil containers, electronic aluminum foil, etc.Electronic aluminum foil industry chain is: the aluminum ingots, high purity aluminum ingots, electronic aluminum foil, electrode foil, electrolytic capacitor.Electronic aluminum foil, also known as electrolytic capacitor aluminum foil, is used for the production of aluminum electrolytic capacitor electrode foil used in the blank .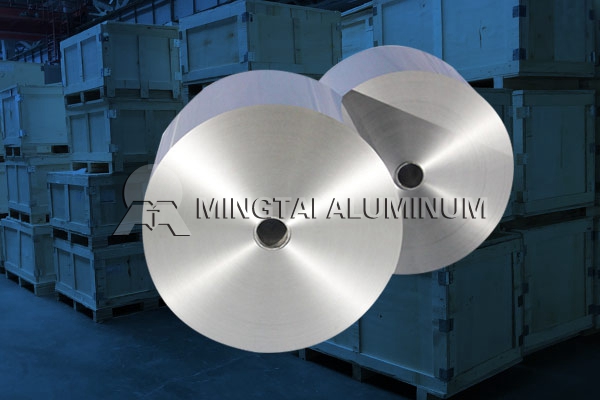 Electronic aluminum foil products
Mingtai aluminum production of electronic aluminum foil products containing 1xxx, 3xxx series aluminum alloy coil,l, commonly used thickness of 0.02-0.055mm, can be customized according to customer demand.The product surface gloss is good, will not produce oil and scratches
Mingtai aluminum industry is electronic aluminum foil manufacturer in China
Mingtai aluminum industry is a leading electronic aluminum foil manufacturers, the company introduction of foil rolling mill design and installation by zhu god company,adopted andreas type, plate roll.The mechanical hydraulic control, to achieve the precise roll gap with pressure sensor and servo valve with high precision, provides a guarantee for good shape.
As the leading manufacturer of electronic aluminum foil in China,Henan Mingtai aluminum has accumulated rich experience in production and service of aluminum processing technology.Main products are 1-8 series aluminum alloy grades, processing range of thickness from 0.018 mm to 300 mm of different specifications, different grades, different state of aluminum sheet, aluminum tape, aluminum foil.To meet the diverse needs of different industries, different customers.