Aluminum foil and medicine aluminum foil
With the metal in the aluminum foil is a kind of aluminum rolling into thin slices of hot stamping material directly, the hot stamping effect is similar to the effect of silver foil stamping, so also known as fake silver foil. Medicine aluminum foil with a clean, health, the effect of anti bacteria, tasteless odorless, no volatile, and malleable, is a kind of non-toxic material. Have extremely extensive application in the field of packaging. Especially in the field of more stringent requirements of pharmaceutical packaging, aluminum foil has the incomparable advantages to other packing materials.
What is

m

edicine aluminum foil?
Medicine aluminum foil is a soft metal film more, airtight, shading, non-toxic tasteless, etc. Surface is elegant silvery white, can produce all sorts of beautiful decorative pattern and design, is the main product of pharmaceutical packaging.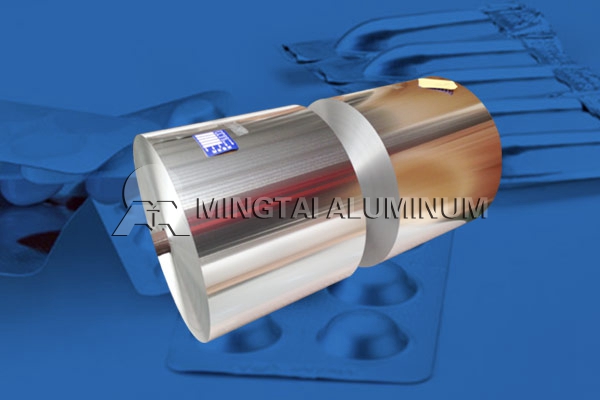 M

edicine aluminum foil market
At present, the demand for medicinal aluminum foil in the world is in a rising stage, and the aluminum processing enterprises are expanding production to meet the domestic and international market demand. In a lively aluminum foil enterprises, the products of the Mingtai aluminum industry to the superior product performance, strict quality control, successfully created a domestic first-class aluminum foil production enterprises.
Mingtai aluminum pharmaceutical aluminum foil
Mingtai aluminum pharmaceutical aluminum foil detection system integrity. In terms of equipment, Mingtai aluminum cleaning mill regularly, maintain the cleanness of rolling mill and roller surface finish, ensure the normal work of the roller clearer. In the control system before the water oil balance, avoid drops off white water spots formed on the foil surface; control excess oil on aluminum foil surface after rolling, avoiding bubble formation during annealing, the formation of residual effect. To ensure that the product is free of oil pollution, water spots, good performance .
Mingtai aluminum foil to superior product performance, strict quality control has won widespread praise from customers, many customers have maintained a close cooperation with the Ming nearly ten years. From the establishment to the present, the development of aluminum industry, now has become a domestic aluminum industry first-class manufacturers of aluminum foil. In the future, Mingtai aluminum will continue to move forward, for the field of domestic pharmaceutical aluminum add brilliant.