A

luminum foil for lunchbox is still in development
At present, China is the world's largest producer and exporter of aluminum foil, aluminum foil production and processing technology and equipment have reached world-class, product quality also reached the international advanced level. the application of consumption of aluminum foil lunch box and container market is still at a develop level.
Why aluminum foil is used for lunchboxes
The global aluminum foil manufacturer initiative Chinese coordinator Dong Chunming introduced, relative to other material boxes and containers have many advantages for aluminum foil boxes and containers. First of all, aluminum foil can be very safe to contact with food, does not contain or help bacteria grow. Second, the aluminum foil has a good thermal stability, in the -20 - 250 C high and low temperature, the molecular structure is stable, no deformation, no crack, no melting. With high temperature aluminum foil separated fire and smoke, but also can effectively avoid the carcinogenic food for the burnt. Three aluminum foil can completely block light, gas and other substances, to extend the preservation and protection of water, to maintain the original flavor and characteristics of food.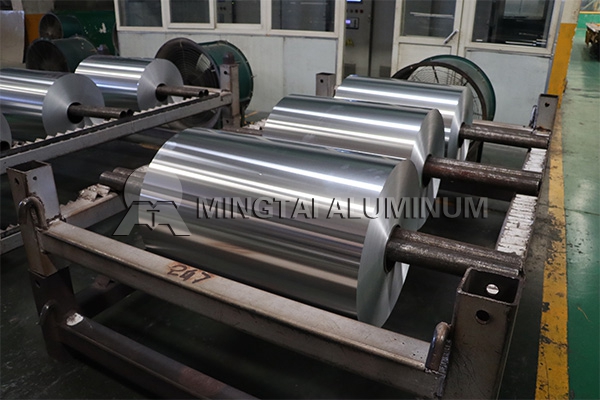 A

luminum foil for lunchbox is renewable
The most important thing is that aluminum foil is renewable. The energy required for the regeneration process is only 5% of the energy required for the production of the original aluminum, the emissions of greenhouse gases is less than the original aluminum by 95%, very environmentally friendly.
In the aluminum processing base of Henan region, the main local manufacturers the largest aluminum processing enterprise is Mingtai aluminum foil containers. The product is not only safe and sanitary, the specification is accurate, the elongation rate is high, the press is not easy to crack, but also requires no oil, no peculiar smell, in order to ensure the requirements of food packaging.
Ming-tai

aluminum production of aluminum foil for lunchbox
Ming-tai aluminum production of lunchbox foil, aluminum foil boxes is generally between 0.01 mm to 0.01 mm thickness, wide range of widths. Generally alloy aluminum foil types are 3004 3003 8011. Mingtai aluminum foil for lunchbox mainly 3004 aluminum foil, most strength of 5052 aluminum foil in recent years, also with the highest by foreign enterprises, become another foreign market development trend.