Pakistan 1235 aluminum foil
Pakistan 1235 aluminum foil. Henan Mingtai Aluminum is a famous 1235 aluminum foil manufacturer in China, which has produced the aluminum foil of many grades, including 8011 foil, 8021 foil, 8079 foil, 5052 foil etc.
The specification of Pakistan 1235 aluminum foil by Mingtai Aluminum:
Temper: all tempers
Thickness: over 0.009mm
Width: up to 1420mm
Length: C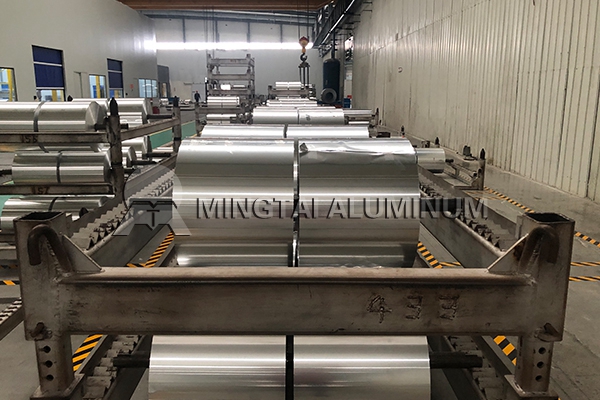 Mingtai Aluminum's Pakistan 1235 aluminum foil for lithium battery current collector are uniform in surface color, clean in surface, smooth in plate shape, and free of oil; intensity>180 MPa, extension>1.5%, wetting>31 dynes, can effectively improve active materials and current collectors. Adhesion reduces manufacturing costs.
The main constituent materials of lithium-ion batteries include electrolytes, separator materials, positive and negative electrode materials, and the like. The positive electrode includes a current collector composed of aluminum foil and lithium cobalt oxide or lithium iron phosphate. At present, the general battery foil products generally require strength ≧180Mpa, and it is a pure aluminum alloy, that is to say, the battery foil is an extremely harsh product for the aluminum foil substrate, and the battery foil is the thinnest thickness and the highest strength; the highest surface dyne value; the smallest thickness difference; the best plate shape; the cleanest surface.
Pakistan 1235 aluminum foil manufacturer
Mingtai Aluminum can supply high-quality aluminum foil products for many applications, such as packaging foil, pharmaceutical foil, battery shell foil, milk cap foil, adhesive foil, cable foil, electronic foil.