A

pplication of aluminum foil

-

Composite foil for automobile
With the rapid development of China's automobile industry and the continuous improvement of the rate of automotive aluminum, the market demand for automotive foil is increasing rapidly. There are two kinds of automobile foil. One is the automotive air conditioner with composite foil. The utility model relates to a composite foil used for an automobile radiator, which is used for manufacturing the automobile radiator, the automobile condenser and the evaporator.
Application of aluminum foil-Pharmaceutical foil
Pharmaceutical packaging aluminum foil mainly include water and injection of easy open type cap and medicinal inhibits PTP aluminum foil. Because the inhibits PTP aluminum foil has moisture-proof, easy to carry, and the advantages of safety and health, in the international pharmaceutical industry application is very broad. The aluminum foil packing drug used in our country since 1985, so far packaging aluminum foil accounts for only 20% of drug packaging materials. Medicine foil market developed rapidly in recent years, on the one hand, the rapid development of medical market, but mainly because 20% aluminum foil applications in pharmaceutical packaging ratio increasing.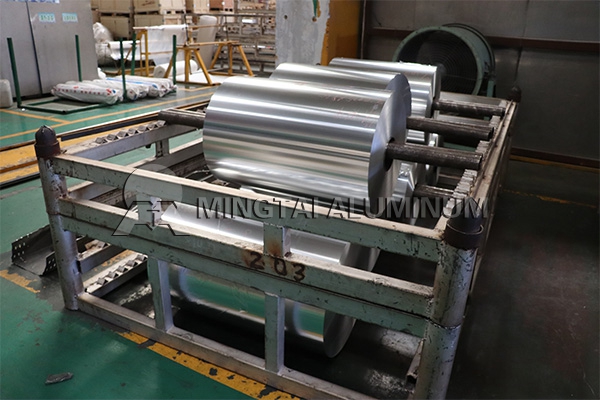 Application of aluminum foil-Flexible packaging aluminum foil
Flexible packaging is a bag type container made of soft composite packaging material. The appearance of flexible packaging has greatly improved the level of mechanization and automation of the food and beverage industry. In developed countries, flexible packaging has become one of the main forms of food and beverage packaging. Flexible packaging not only has the effect of moisture-proof, fresh, and can print a variety of patterns and text, is the ideal material for modern commercial packaging. With the improvement of people's living standard, there is still much room for development of flexible packaging aluminum foil.
Application of aluminum foil-Aluminum foil for electrolytic capacitor
There are few manufacturers of electrolytic capacitor aluminum foil in China, mainly because the market demand is not large, and the production technology has a big gap with the advanced countries. At present, Japan's annual demand of 45 thousand tons, is China's market of 6 times. With the development of electronic industry and the main industrial production base in China, the market demand of electrolytic capacitor aluminum foil is bright.
Application of aluminum foil-Aluminum foil for cable
The outer surface of the cable is coated with a layer of aluminum foil to protect and shield. This foil usually use pure aluminum 1145 grades of manufacturing, by continuous casting and rolling, cold rolling, cutting and completely after annealing, according to the user the required length is divided into small volume supply cable foil composite plant, the aluminum foil covered plastic film, divided into several small coils into a supply cable factory.