Material Application: food container, honeycomb core
Product: 3004 aluminum foil
Project Details:
Why choose 3004 aluminum foil Spain
3004 aluminum foil Spain, due to its excellent performance and high cost performance, is favored by more and more users. The use of 3004 aluminum alloy container foil has the following advantages:
1. Good formability. Compared with other aluminum products, it has high strength and deformation resistance.
2. 3004 container foil can be recycled, and the energy required in the production process is only less than 5% of the energy required for the production of primary aluminum, which meets the requirements of low-carbon environmental protection, energy saving and emission reduction.
3. 3004 aluminum foil is used as food container foil, which has good sealing performance, heat preservation and freshness preservation, and can be directly heated for convenient use.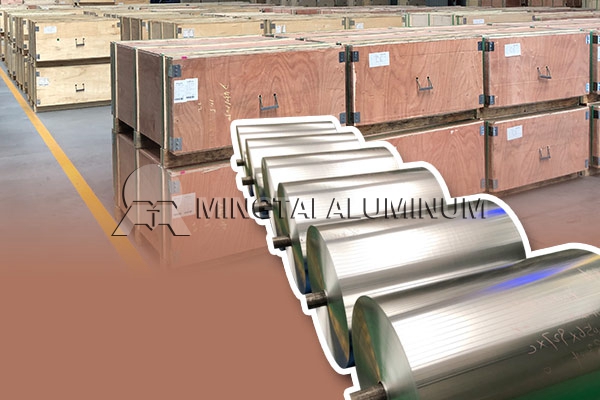 80 tons of 3004 aluminum foil sold to Spain
Henan Mingtai Aluminum Co., Ltd. has been engaged in export business for nearly 20 years, and has a good reputation both at home and abroad. A good reputation is achieved by good quality. After more than 20 years of development, Mingtai aluminum foil products have been recognized in many places abroad. Among them, we all know that the European market has high requirements for product quality. Mingtai Aluminum has successfully opened up the European market with professional products and services. In addition to this communication, a Spanish customer purchased 80 tons of 3004 aluminum foil and has high confidence in the quality of the product. We are honored to receive this trust.
Mintai tai aluminum foil manufacturer in Spain
In addition to Mingtai Aluminum's 3003 aluminum foil, which can be used as container foil, 3004 aluminum foil is also an alloy foil often used by customers who buy container foil. Here, Mingtai Aluminum has 20 years of rich experience in aluminum foil production, and adopts advanced ANDRITZ plate rolling machines to ensure good plate shape. And adopt Honeywell thickness gauge to ensure accurate control of outlet thickness. It has to be said that the container foil plate produced by Thailand is flat, uniform in gloss, no creases, no color difference, and the end face is flat and clean. If you have any needs, you are welcome to visit our production workshop!