P

harmaceutical packaging foil
Pharmaceutical packaging foil is mainly used for the packing of the drugs, it can protect the quality. Drugs are not easy to oxidation, and improve the stability of drugs.
Health Bureau on the quality requirements of pharmaceutical aluminum foil is very harsh, the appearance of the surface must be clean, evenly coated evenly. The above text, pattern printing must be correct and clear and strong and not dense, continuous pinhole. In different batches of pharmaceutical aluminum foil, the color difference can not be too obvious, otherwise it will be considered inappropriate products.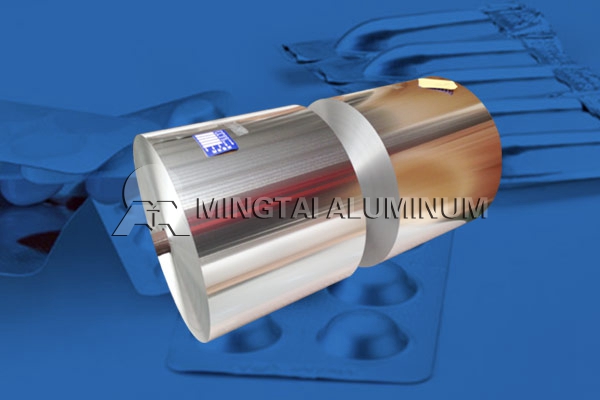 The roll of

pharmaceutical packaging foil
Ppharmaceutical packaging foilis not very common in people's lives, the hospital staff is more understanding, in order to keep the reliability, no cutting corners on pharmaceutical aluminum foil.8011-O aluminum foil is mainly used in food packaging, pharmaceutical packaging. Machinable range thickness: 0.02mm-0.07mm, width: 300mm-1100mm. Ming tai aluminum can customize product according to customer requirements for you. Henan Mingtai production of 8011 aluminum foil on the pharmaceutical packaging, mainly used in some of the vacuum packing solid drugs, patches and capsule.
Ming tai 8011-O aluminum foil
Mingtai has a strong production capacity, aluminum foil with annual production capacity of 650 thousand tons, for many domestic and foreign enterprises long-term supply. Mingtai pharmaceutical aluminum foil production of 8011-O temper has the following four performance advantages:
1. Clean, uniform color, no spots, no pinholes formed.
2. Non-toxic tasteless, safe and hygienic.
3. It has excellent moisture resistance and high barrier ability.
4. Strong mechanical properties, high anti explosion performance, strong resistance to puncture and tear.