Material Application: construction, aluminum honeycomb core,alloy composite panel
Product: 3104 aluminum foil
Project Details:
French customer purchased 3104 aluminum honeycomb foil

1 container
The overall structure and coating structure of the honeycomb core aluminum alloy composite panel are divided into three layers: the outer layer is an aluminum alloy sheet of 0.2-0.7mm, and the center layer is an aluminum foil. Some time ago, our French customer purchased 3104/H19 honeycomb foil for center layer of aluminum honeycomb core. The customer purchased more than 2 tons of samples in the early stage, and after the trial, an additional order of 16 tons was added.
About Aluminum Honeycomb Core
The structure of the aluminum honeycomb core can play multiple functions such as heat preservation, heat insulation, sound insulation, weight reduction and high strength in the curtain wall siding. Significant influence. As a large-scale manufacturer with 20 years of experience in aluminum foil production, Mingtai Aluminum has accumulated rich processing experience in the field of aluminum foil for honeycomb cores. The company produces 3004/3104 and other aluminum foil substrates for honeycomb cores. The general thickness is between 0.03-0.08mm, mostly between 0.04-0.06mm. The aluminum foil product has clean degreasing, high strength, flat plate shape, tensile strength above 280MPA, and elongation of about 3%.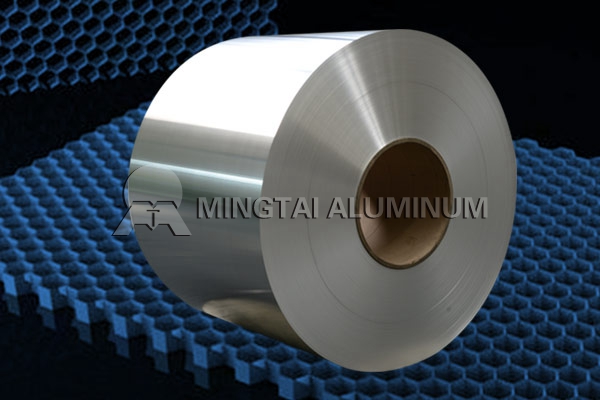 After customers buy 3104 aluminum honeycomb foil
Judging from the current use of domestic and foreign customers, the 3104 aluminum honeycomb foil produced by Henan Mingtai has a good effect on curtain wall siding. The product is not only affordable, but also the stability of product performance and the service life of the finished product after processing. It is much better than more than 70% of its counterparts in the market, and it is the preferred manufacturer for many buyers to reduce costs and ensure quality.
In addition, Mingtai Aluminum also has the fourth ultra-wide 2650mm cold rolling mill in China, which can produce various wide-width curtain wall aluminum plates with a width of less than 2600mm, such as: ultra-wide 3003 aluminum plate, 5052 aluminum plate, wide 5005 aluminum plate Aluminum plates, etc., the products have high precision, smooth and clean surface, good oxidation and coloring effect, and can be ordered in batches with more affordable prices.