Material Application: air conditioning pipe bandage
Product: 8011 aluminum foil
Project Details:
Application and characteristics of 8011 adhesive aluminum foil
With the progress of science and technology, adhesive tape used in the insulation material, coolant tube fixed, electronic circuit shielding layer has gradually replaced by aluminum foil substrate tape. The adhesive foil substrate is mainly made of 8011 aluminum foil. 8011 adhesive foil has soft texture, good compliance of surfaces and can be used in a variety of environments. It has high-grade appearance, high cost performance, showing the advantages of practicality.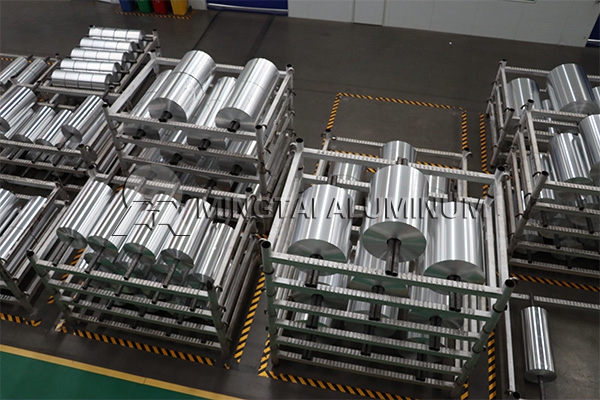 8011 adhesive aluminum foil for air-conditioning pipes
8011 adhesive aluminum foil is not easy to crack and damage after repeated use or multiple bending, 8011 adhesive aluminum foil is used for air conditioning pipe bandage. 8011 aluminum foil for Air-conditioning pipes is in line with the material's seam and paste, seal of insulation nail puncture and damage repair. It is the main raw and auxiliary materials of refrigerator and freezer.
Professional manufacturer of 8011 aluminum foil
8011 adhesive foil is the advantage product of Henan Mingtai Aluminum, Mingtai Aluminum as a professional manufacturer of 8011 aluminum foil can handle 8011 aluminum foil of 0.018-0.5mm thickness. 8011 aluminum foil is mainly used for pharmaceutical packaging and food packaging. Mingtai Aluminum can be customized according to customer requirements. Mingtai Aluminum has a strong production capacity with an annual capacity of 1.4 million tons, and supplies products for many domestic and foreign enterprises for a long time. If you want to get more information, please click our website www.al-foil.com.