Material Application: lithium battery packaging
Product: 1060 aluminum foil, 1050 aluminum foil, 1235 aluminum foil
Project Details:
Aluminum foil for car battery
In the market, in addition to the hybrid electric vehicle technology is relatively high, the highest voice is represented by lithium batteries as pure electric vehicles. we all know electric cars , but what is its power source-lithium-ion battery? What is aluminum foil for car battery?
About Aluminum foil lithium battery
The cathode material of the lithium ion battery is coated with lithium iron phosphate or ternary material on the surface of the aluminum foil. The negative electrode is a copper foil, metal base (Sn-based material, Si-based material), lithium titanate, carbon material (carbon nanotubes, graphene and so on.) and other negative materials.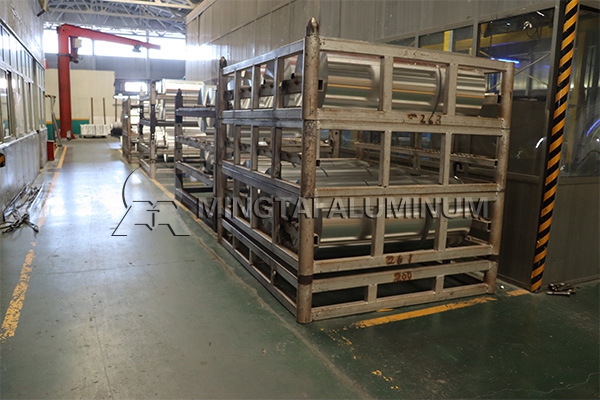 Aluminum foil lithium battery

'

s work principle
Aluminum foil lithium battery's work principle is the principle of its charge and discharge. When the battery is charged, the lithium battery is generated on the positive side of the battery, and the generated lithium ions move through the electrolyte to the negative electrode. And the carbon as the negative is layered structure, which has a lot of micro holes, lithium ions reached the negative side and is embedded in the micro holes of the carbon layer. The more lithium ions embedded, the higher the charge capacity is.
By the same token, when the battery is discharged (that is, the process we use the battery), the lithium ions embedded in the negative carbon layer is out, and move back to the cathode. The more lithium ions returned to the cathode, the higher the discharge capacity is. We usually say battery capacity is the discharge capacity.
It is easy to see that in the lithium-ion battery charge and discharge process, the lithium ion from the positive → negative → positive movement of the state. If we likewise describe the lithium-ion battery as a rocking chair, both ends of the rocking chair are the poles of the battery, and the lithium ions are like excellent athletes, running back and forth at both ends of the rocking chair. So, the experts gave a lithium-ion battery a lovely name-rocking chair battery.
Aluminum foil material for lithium battery packaging
Aluminum foil material for lithium battery packaging and lithium battery aluminum plastic film are mainly 1 series, 3 series and 8 series aluminum foil, respectively, industrial aluminum, Al-Mn series and aluminum and other non-common elements. 1 series foil includes 1060 aluminum foil, 1050 aluminum foil, 1235 aluminum foil, 3 series foil includes 3003 aluminum foil, and 8 series foil includes 8021 aluminum foil, 8079 aluminum foil.
Mingtai Aluminum carefully selects aluminum foil blank, strictly controls the hydrogen content of the blank, non-metallic slag and grain size, and ensures product quality from raw materials; the use of advanced on-line degreasing technology, ensure cleanliness of aluminum foil on the basis of ensuring the mechanical strength of it.